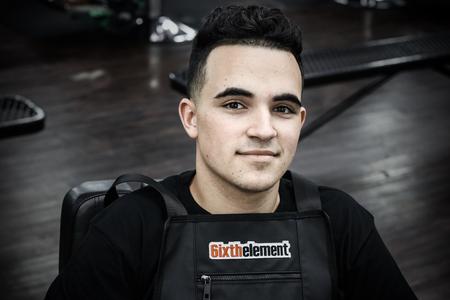 Fresh Out Of Highschool, I walked across that stage and graduated with my high school diploma and my Barbering license. I was the first one in Blake history to complete the Barbering program. I go by the name of Trench Barber. Trench is what everyone called the back end of my neighborhood because of how violent it would get at times and that's where I first started cutting those infamous $5 haircuts on my front porch. I want to bring my parents a life that they could never experience and I believe that with my faith in God and these clippers anything is possible!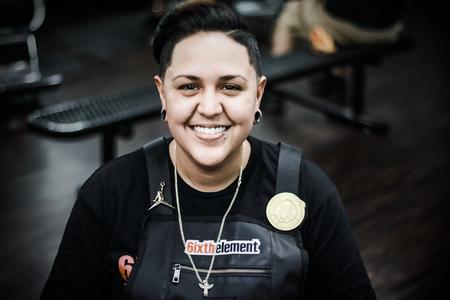 Ashlee was born in Tampa, raised in Brandon. She studied in Cosmetology/Barber school. Where she found a passion in cutting hair. Being passionate about the artistry of a fade and with encouragement from family and friends, Ashlee decided to become a barber and is pushing herself for the title Master Barber. Making it her objective to assure clients are satisfied with her craft. In her free time, Ashlee loves to enjoy time with her family and friends. 
Born in 90 and raised in Tampa is where my legacy began.. I always loved the art of cutting hair and looking as clean as possible. I picked up a straight  razor at the age of 16 to clean up my edge line for the weekend and that same day i was hooked, barbering it was…cutting on what was known as the stool was where to find me every weekend cutting up the neighborhood….grew up in Brandon where I went to high school and made myself who I am today… barbering is my passion and giving my clients the best experience is what i strive for…book with me and get the experience of a lifetime​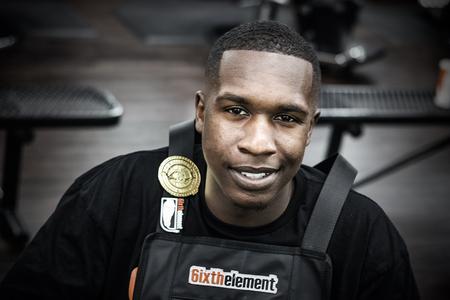 ​Focused, (and) driven by success, with service & satisfaction always being main priority sure to go the extra mile to meet my clients and potential clients every need. I was always told to never look like what the days took you through so Book your appointment today with TreyTheBarber and take a spin in my chair.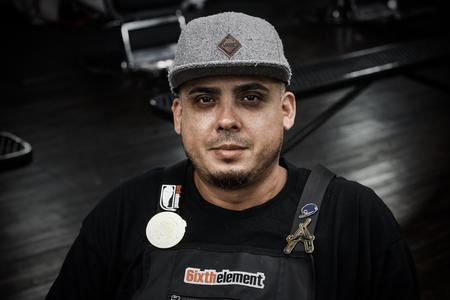 Born in 81′ in the City of wind, the Hard knock streets of Chicago was a tough place to grow up in. Picked up my 1st pair of clippers at the age of 15. Influenced by Hip Hop music, graffiti & style I automatically found a passion for cutting hair. Moved to the Sunshine State to live a better life in 07′ and I haven't left since. Survived a battle with Cancer in 2013. I'm happily married with 4 beautiful daughters & a son. They are my motivation to be better at what I do every day. Life is too precious to not live my dream; I love what I do. My passion for this game will never fade away. Like my mans Naz said in his song, "I know I can, Be what I wanna be. If I work hard at it, I'll be where I wanna B" .
My name is Fernando aka Ironbarber, i was born and raised in Brandon FL, where i have spent my whole 26 years of life. From first accidentally picking up a pair of clippers and messing around in the garage with friends. To saying that I will never cut hair for a career in my life (after a horrible failed attempt) to later on learning adopting and trying to achieve the best possible experience and service that i can give with a pair of clippers and shears. Also being a bodybuilding enthusiast i have overtime built a desire to want to bring something to someone who sits in my chair that they can take home, not alone a haircut. But a feeling of self-confidence, positive energy, and hopefully a smile with thought of knowing i tried to give you nothing short of a good experience. I like to look at each and every client not as just a money transaction but as a big family i adopted through a pair of clippers…and if there may be any words of encouragement…or educational help through health fitness…or any other areas i can speak on, i am always open to help where help is wanted. It is deeper than just a haircut for me…but an establish relationship of trust and care for you and the time you have with me in the chair. I have been cutting for over 9 years and there shows no signs of it going anywhere soon. I look forward to meeting anyone who books with me and may your day be filled with an abundant amount of joy and purpose to a better you and your future.
 Local kid from Brandon Jonathan has been a license barber since 2008. Growing up he knew he always had a passion for art, style and personal grooming. It wasn't until he was 15 he was given his first pair of clippers and an opportunity to take his art to a new canvas. What started as a past time soon became a source of income and an excuse not to get a summer job. From family, to close friends, exceeding all the way to random classmates he started to realize he might be on to something. Only a week out of high school he was enrolled in cosmetology school and on his way. He has now been with the 6ixthelement team the entire 8 years of his career. The only thing that surpasses his skill as a barber is his love to communicate and connect with everyone that sits in his chair. Participating in community functions, charity events and national hair shows he continuously strives to grow as a barber and member of the 6ixthelement team. In 2014 he took his career a step further starting his clothing line Kwäfer mixing his love of hair and fashion. You can always find Jon at the shop cutting hair, telling jokes and enjoying his craft.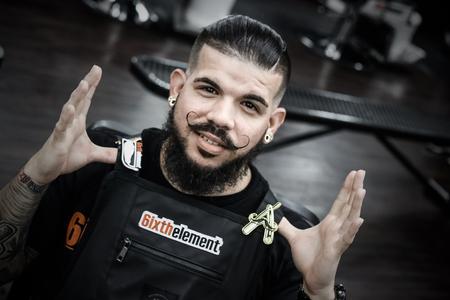 I remember being a little kid sweeping hair for $2 in the barbershop when I was 6yrs old. I am now 24 yrs old, and a professional Master barber for almost 4 years. I moved to Brandon FL 5 years ago from Miami to chase my child hood dream as a barber. Watching my uncle Cut hair all my life I grew a strong passion for the art of Barbering. In a short 4 years I have done things in this industry that i never imagined possible.  I now go to hair shows, Barber battles, Educational seminars, and started educating others on how to become a better barber and business man. I have placed in multiple Barber battles in different states in the U.S. and have over   10 trophies. My job is to provide you with the best of the best quality service and experience ever. I take my job serious and I love being a barber.
My main goal in life is to provide a comfortable and stress free life for my wife and kids. I picked up a pair of clippers at the age of 15 for some gas money. I used to watch my dad cut all of my friends and his friends in my house and realized it was a fun and easy hustle. They say that when you love what you do you never have to work again… I live that life. Getting out of bed to come to work has never been a burden on me. It all started for gas money now I own a house and truck and live better than I assumed a pair of clippers could take you. I go by the profession 'barber' but from what I provide in my chair most can say I am a good listener, counselor, friend, I encourage, I'm dependable, reliable and most of all most could say I'm professional in all ways. I'm originally from Orlando Florida but have been in Tampa most of my life now .
I'm a master level barber at 6ixthelement Barbershop on Brandon Blvd. where I welcome both men and women into my chair. Fresh haircuts, stylish braids and retwists are all available. My long list of specialties also includes hair replacements that can last for about 3 weeks or roughly 4 months. And to help my clients reduce stress while promoting healthy skin, I use steam, skin exfoliation, and pore vacuuming while providing therapeutic facials.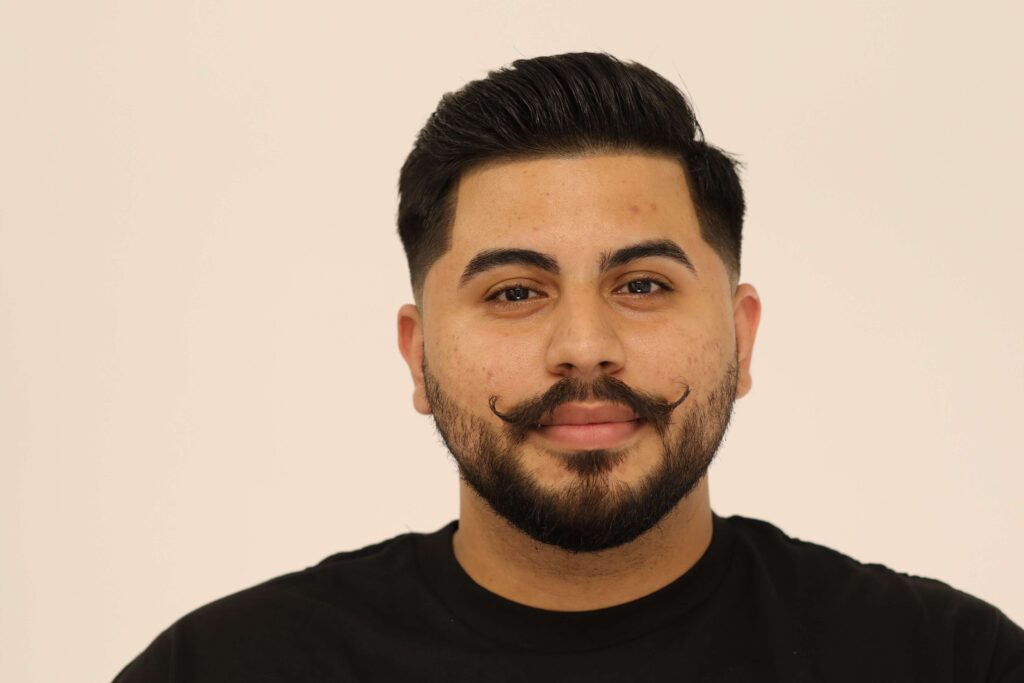 My family started taking me to the barbershop at the age of 12, and once I got a taste of a sharp hairline I couldn't get enough! And when mom and dad couldn't take me as often as I wanted, I took it into my own hands and started lining myself up, which soon turned into me cutting my friends and family. I've always been known an artist, and that has translated to my craft, this is an art to me. I look forward to meeting and servicing you. My entire portfolio can be found on Instagram @TitoCuts.
My name is Alberto aka Bertolucci, born in 83' in Chicago Illinois "Go BEARS!"  I moved down to Sunrise Florida for high school and went to Plantation High. After a few years I moved up here to the Brandon area. In 2010 I decided to try barber school and  found a new passion in the craft. Now I'm blessed to say I have an amazing wife and 4 children. I value family time. I love being a barber and honestly can say it has change my life. I am a Christian and love God. I'm quiet when focused on creating the perfect cut! 
I was born and raised in the heart of Tampa. Growing up haircuts meant the world to me. I want to give back and make people feel better about themselves like my barber has done for me for many years. Cutting hair is more than a trade, it's an art. My main goal is making sure my clients are comfortable and satisfied with the services I offer.